The link between chronic disease and inflammation based on a poor diet and inactive lifestyle has actually been explained by now, as laid out in an article from the Centers for Disease Control and Prevention.
The wrath of chronic disease – including heart disease, cancer, stroke, rheumatoid arthritis and many others– research has identified is caused by inflammation.
"The best medication to reduce the huge suffering endured by so many in our population today is an active lifestyle and an anti-inflammatory diet; food ought to be nourishing and satisfying," states nutritional expert and juicing leader Cherie Calbom, MS, in her most current book, "The Juice Lady's Anti-Inflammation Diet."
"Whether you're on a vegetarian, vegan, low-carb, no-carb, Mediterranean, Neanderthal or any other sort of diet, there are tasty dishes readily available to anybody who wants to up their anti-inflammation efforts."
Anti-Inflammatory Diet Plan
This diet plan effective for for Rheumatoid Arthritis, Diverticulitis, Fibromyalgia, Cancer and Other Diseases.
Below, Calbom lists simply 3 of her lots of dishes, with some active ingredients that you might already have your kitchen.
BREAKFAST: Spanish Frittata
Serves 4-6
For the Frittata
12 large natural eggs
1/2 cup coconut milk
1/2 teaspoon sea salt, or more to taste
2 tablespoons coconut oil or extra-virgin olive oil
1 small red onion, finely sliced
1/2 cup sautéed mushrooms or your favorite veggie
1 cup spinach or arugula
Preparation
1. Preheat oven to 375ºF degrees.
2. Whisk the eggs and coconut milk with 2 pinches of salt. Reserve.
3. Prepare pan with coconut oil and medium-high heat and sauté onions until translucent, about 3 minutes. Add mushroom or preferred veggie and sauté until soft. Toss in spinach and fold into veggie mix simply up until wilted. Eliminate veggies from pan; set aside.
4. Refuse the heat to low, including a little more coconut oil if required. Using the same frying pan, add the eggs, shaking to disperse the mixture evenly. Prepare over medium-low heat for 5 minutes using a spatula to spread the eggs from the edges to the center until the edges are no longer runny. Organize the vegetable mix over the top uniformly.
5. Transfer to the oven and cook for 5 minutes until set and slightly browned. Eliminate from oven. Be extremely knowledgeable about the hot handle! To complete, move partly cooked frittata onto a big plate; using oven mitts, place a plate over the pan and, holding the two together, invert them so the frittata drops onto the plate. Slide the frittata back into the pan so partly cooked side is up. Place back in oven to prepare 3-4 minutes more. Serve with a basic salad with a citrus vinaigrette.
LUNCH: Tropical Quinoa Salad With Cashews
Serves 4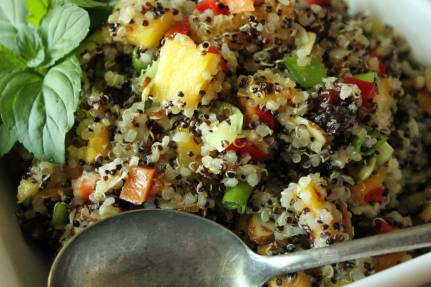 For the quinoa
1 cup dried quinoa, washed well
1/2 red onion, carefully chopped
1 cup apple or carrot, finely sliced
juice of 1 lime
2 tablespoons honey or agave
1 tablespoon extra-virgin olive oil
1 big mango, chopped (not overly ripe).
1/4 cup mint, finely sliced.
1 teaspoon sea salt, to taste.
freshly ground black pepper, to taste.
1/2- inch-piece ginger, carefully sliced.
1 avocado, sliced or very finely sliced.
1 cup cashews, coarsely sliced.
3 cups Romaine lettuce (or greens of choice), roughly sliced.
Preparation
1. Cook the quinoa: Bring 2 cups of water to a boil in a medium pan; add the quinoa and simmer, covered 15-20 minutes. Set aside and let cool (spread out for best results).
2. In a large bowl toss the sliced red onion and apple/carrot. Whisk together the lime juice, honey and olive oil. Contribute to the bowl. Include the cooked, cooled quinoa and mango to the bowl and toss well. Mix in mint, cilantro, ginger and salt and pepper, to taste. Garnish with sliced up avocado and cashews. Scoop mix over greens and serve cooled or at space temperature level.
SUPPER: Salmon With Stone Fruit + Lavender Chutney
Serves 4-6
For the salmon
Double the dish for MindBodyGreen's Broth-Poached Salmon, leaving out the boom choy and sesame seeds.
For the chutney
2 pounds. stone fruit, small dice.
1 large onion, finely sliced.
juice of 1 lemon or lime.
2 tablespoons garlic, minced.
1/4 teaspoon chili flakes (optional).
1/3 cup red vinegar.
3/4 cup raw honey or agave.
3/4 teaspoon sea salt.
2 tablespoon fresh lavender (or use basil or mint; use 1 teaspoon dried lavender if you can not discover it fresh).
Preparation
1. To make the chutney: In a pan integrate all ready components except the herbs. Bring to a boil. Continue cooking at a rolling boil, 15 minutes. Stir occasionally. Mix in fresh herbs and/or lavender at the end.
2. To assemble: Top the poached salmon with the chutney and served together with grilled asparagus.
SNACK: Cherry Chocolate Shake
Serves 1
Components
1 tablespoon unsweetened, unprocessed cocoa powder.
1/2 cup frozen dark cherries, pitted.
1 cup coconut; almond or flax milk.
1/2 teaspoon pure vanilla extract; numerous drops of liquid stevia (suggest Sweet Leaf Vanilla Crème).
ice as wanted.
Preparation
Place all ingredients in a mixer and process till smooth.